August 17 & 18, 2024
Saturday 10-5, Sunday 10-4
Creativity runs deep in Eastern Manitoba and inspiration flows at every turn. From the surreal east shore beaches of Lake Winnipeg, through the Winnipeg River System to the rugged lake country of the Whiteshell, join us on a tour of art and landscapes as artists across this beautiful region open their homes and studios to share their world with you.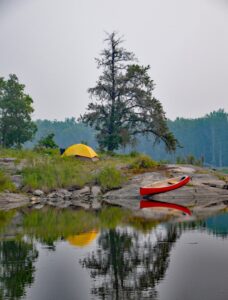 Boreal Shores Art Tour – is a free, road-trip worthy, self-guided art tour featuring  individual artists and  galleries at  locations scattered throughout the beautiful and diverse Boreal forest and shore regions of Eastern Manitoba*. From the eastern shores of Lake Winnipeg through the Winnipeg River System to the Whiteshell Provincial Park, the Tour showcases artists from diverse communities throughout the region who love to explore all aspects of visual art. Artists can be found in their private studios or at group locations along the tour route. New Artists, New Mediums, and New Venues combine with Proven Favourites from previous years to make this a great year to join us.
Tour Brochure and Maps will be available online on our website in July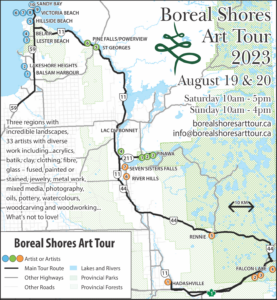 and at locations throughout the tour area. See the Brochure and Map page for more information. Peruse the brochure ahead of time to see who, what, and where you want to go and see on the Tour weekend. On the weekend of the Tour feel free to go to as few or as many artist locations as you are able. Pick up a passport at any of the locations and get it stamped at each stop. It's a perfect day or weekend road trip to take with your friends or family! 
If you are interested in being a Volunteer during the Tour weekend (for example, greeters are needed at each location), please email [email protected] and we will find an appropriate opportunity and location for you.
Need more information?  Contact our Coordinator, Norine Harty, at [email protected].
See you soon!!
*Many artists are available "by appointment" right now. Please check the Artists' individual pages on our website to arrange.
BSAT will follow all COVID guidelines and orders at the time.   Every effort will be made to keep everyone safe and hand sanitizers will be available at every stop.
Follow us on Facebook and Instagram – Boreal Shores Art Tour – where artists are being featured now.  
Want to keep up to date on the latest news? Sign up for our newsletter