The Tour:
The Boreal Shores Art Tour started out in 2017 as the largest visual art tour
in Manitoba, and has grown since then with more artists, venues, and special features!
The Tour is designed to be a self-guided and features artists throughout Eastern Manitoba located in both studio and group locations. You can start and end anywhere along the tour. We offer a handy full-colour, professional brochure to help you make decisions of who to see,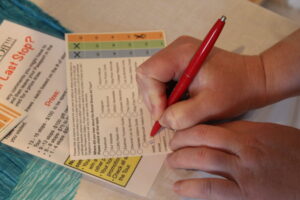 where to go, and directions for how  to get there. Tour Passports are available at each location for you to pick up, have stamped at each stop, and put in an entry bin at your last stop for an opportunity to win a draw for some great prizes! Art originals, prints, and products are available for purchase throughout the tour.  View pictures from the 2023 Tour at the bottom of this page. 
A dedicated and visionary group of people organize the tour each year – people with a passion for artistic development beyond their own work and a desire to expose the world to all that Eastern Manitoba has to offer in the way of beauty, tourism, lifestyle, and especially ART!
Board of Directors: (elected October 2022)
President                    Vacant
Vice President            Stu Iverson
Secretary                     Dianne Lund
Treasurer                     Denise Gray
Past President             Janice Charko
Members at Large      Rick Cline, Diane Silverthorne, George Tanner
Tour Coordinator       Norine Harty
The Artists:
The artists that participate in the Tour are all local – living in the area full time, seasonally, or something in between. Artists' work must be original and they are required to submit examples to a group of judges prior to being accepted. On the Tour you will find hidden-gem artists that are just emerging to artists that are well established and notable. All of our artists are talented and have their own unique style. If you are interested in participating  as an artist, CLICK HERE.
The Support:
Many local businesses, municipalities, arts and government organizations have understood the value of this tour and have supported us along the way. We are deeply grateful! Please see our Supporters page for the full list and take time to drop in by our terrific local establishments on the tour weekend and beyond. 
The Patrons:
What would we do without you?? Nothing is more exciting for us than to have people who are equally excited about ART come and visit us!!
Whether you are an art lover, a nature lover or you are looking for a family activity or an adventure with friends, this is an amazing event and should be at the top of your list!
Come and see what we have to offer!
**************************************************************
Pictures from 2023 Tour: