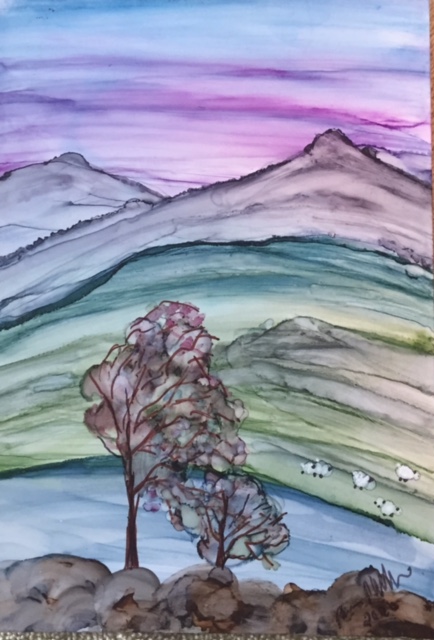 This being Bernice's 4th year in the tour she has decided to try a new direction with her art. She will be concentrating on larger pieces, using recycled windows, vases and other glass pieces. In this way she will be reducing her carbon footprint, while creating useable works of art that showcase the beauty of the Boreal forest.
She is also planning a new series of water colour paintings which will feature some of the scenic views of this area as well as some of the wildlife that she has seen. She has always been fascinated by fur and feathers and the challenge of painting realistic wildlife.

Bernice says it's a process to do a watercolour painting. It usually takes 3 to 7 days to complete. First she studies the picture, noting the light, fur directions and position of the subject. Then after doing the drawing, she traces the subjects outline onto watercolour paper. Next she starts to paint the background, and main features of the subject (eyes, ears, nose and mouth).

Now it's time to start the undercoat, using soft strokes in the direction of the fur, then adding another little darker layer of fur.
Often in this process she will walk away for a hour or a day to get a fresh perspective or to wait for natural light. (She loves to paint when she has natural light at her kitchen table). She continues this process until the painting is complete.

This year she will also have glass pendants, cards and prints of her paintings available.

Bernice also plans to start teaching a series of art classes at her "Garden Path Studio" this year. Including mixed-media, and working on different surfaces such as wood, glass, and canvas. Painting in her yard will enable her students to walk through the gardens and various flower beds to draw inspiration through their senses of smell, vision and touch.
You can view Bernice's work by Appointment this year. Use the contact information below:
Phone: 204 367-8369
Email: [email protected]