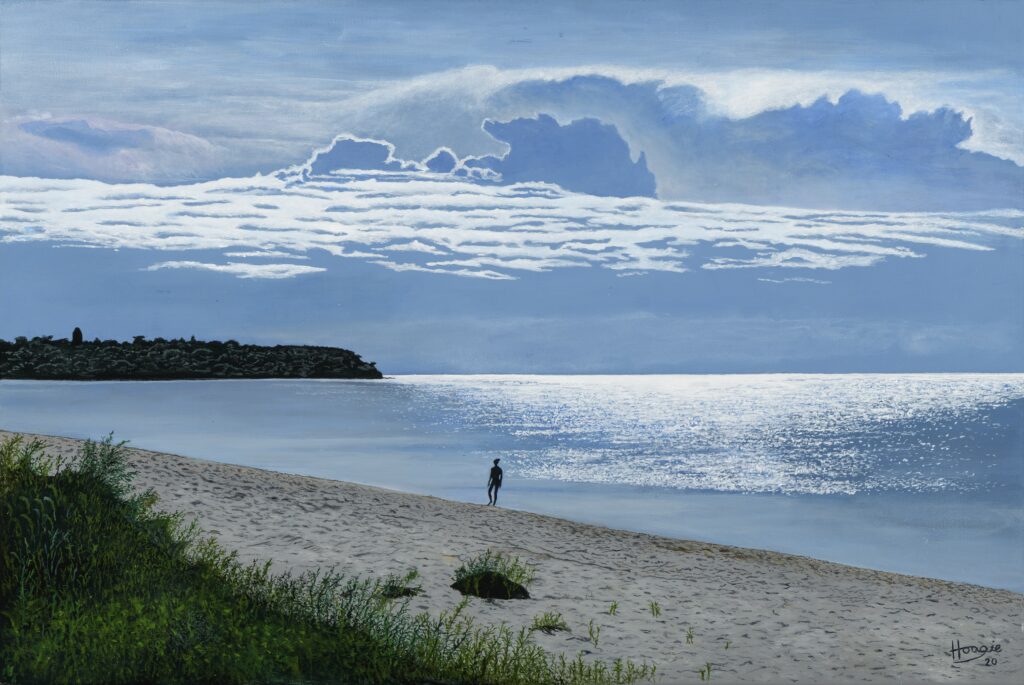 I was born in La Mesa, California in 1965 to Manitoba parents. I was raised in the working class neighbourhood of Elmwood in Winnipeg, by my Ukrainian-Canadian widowed mother and my grandmother. I began painting athletes as a child, and created my first masterpiece, a cardboard hockey goal target of Los Angeles Kings, and Hall of Fame netminder Rogie Vachon. I dabbled in art throughout and as a young adult painted my second masterpiece the Whitesnake Album cover, "Lovehunter" on the hood of my Mustang Cobra in model paint. After the death of my mother a close friend suggested I take up art professionally based on that "Lovehunter" piece.
I bought some acrylic paint and canvas in 2001 and went at it. First doing a number of sports figures. I received a commission from the Winnipeg Blue Bombers to paint a portrait of Bob Cameron for his retirement ceremony.
In 2007, I was accepted into Artbeat, the mental health artist recovery program, where I tried my hand at landscapes, and nudes. I received a grant from the Manitoba Arts Council to spend time at Grand Beach working on a series on landscapes. I really feel in love with landscape art, as I feel connected to the land.
This was the place loved as child, where my Ukrainian uncle, an Ostarbeiter victim of WWII, his wife, my mother's sister, my cousins, granny and I would enjoy Sunday summer afternoons. Here we learned the connection to nature.
I ended up homeless about 10 years ago due to a mental breakdown. I struggled to recover but reconnected to Artbeat, which helped me through this journey. As I honed my skills, I was recognized by Mark Chipman, CEO of the Winnipeg Jets who commissioned me to paint their Hall of Fame inductees.
From there I was able to move to Victoria Beach, continue my work, and even receive some commissions. I continue on my art adventure. I have began work on pieces of the war in Ukraine to document those who, like in 1914, 1919, and 1943. defended my uncle's and grandparent's homeland. Little did my cousin Michael and I know that doing those summers at the Grand Beach, when we played "war" and pretended to land on the beaches of Normandy in our uncle's raft.
Facebook: Hoagie Art Works
Instagram: Hoagie Art