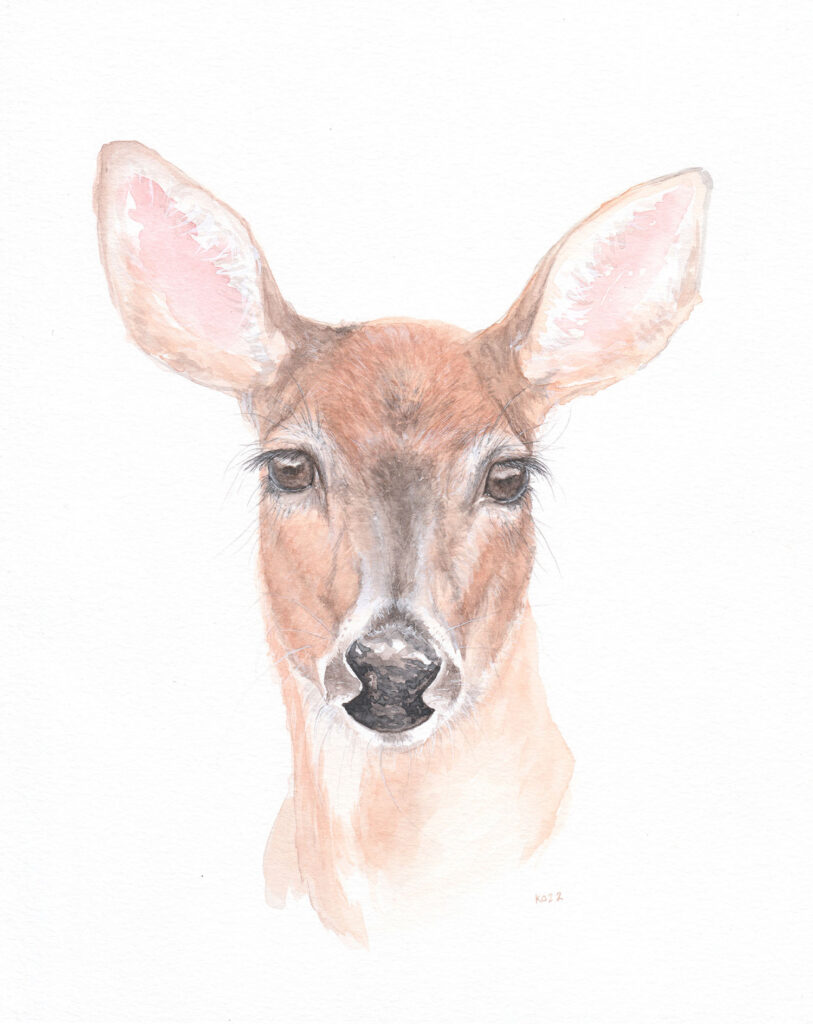 Karly is a nature artist and mother of 3, living in Pinawa, MB. Her works include landscapes, portraits of animals and abstract works based on natural elements. Working primarily in watercolours, and acrylics. Karly creates art invoking calmness and peace, using a minimalistic style with limited palettes and intentional brush strokes.
Growing up rurally on a farm in eastern Manitoba she spent her childhood exploring the woods around her home and out on family camping trips. School involved around 3 hours a day on the bus and this meant lots of time to study the landscapes and skies. "I have always been fascinated with the shapes and colours in a sky, and how quickly they can shift. I'm very inspired by the outdoors, the movement of the trees, clouds or water and all the colour combinations. Which are all imbued in the work I create."
"Being neurodivergent my mind is often a really busy place, art and the outdoors have always been a way to soothe the chaos that goes on within. In nature, I don't feel all the anxiety and overwhelm, and this is depicted in the work I create. A lot of the subject matter is often after a storm or blowing clouds, and despite how raw nature is, there can be utter calm and tranquillity, even in the rushing currents. Which I capture in the still moments of a painting. The whole process is actually really cathartic too. I really focus on the creative process, using mood boards, specific musical playlists, and creating individual colour palettes with swatches and small studies for my projects"
Karly took courses in graphics, fashion design and art in highschool and continued her education in Vancouver BC, after 6 years working in the graphics industry. She attended Vancouver College of Art and Design, graduating with honours, then went on to study at Emily Carr University for Letterpress.
She spent 5 years living throughout BC, moving back to Manitoba in 2014. "Moving to Pinawa, has always reminded me of BC, they are both very inspiring places to live. As an artist, you can look out any window and see something you want to paint!".
Karly built her home studio and started her letterpress business in 2017, but in 2020 felt a shift towards creating more intentional artwork and focusing on her art career. She now has a shared studio space at the W.B. Lewis Business Centre in Pinawa, as well as the home studio space. She mostly creates her watercolours in her home studio as she is able to create this work as parenting allows.
Her artwork can be seen at the Pinawa Art Gallery, as well as on her website at http://www.karlyowens.com or on Instagram at @karlyowens.studio.