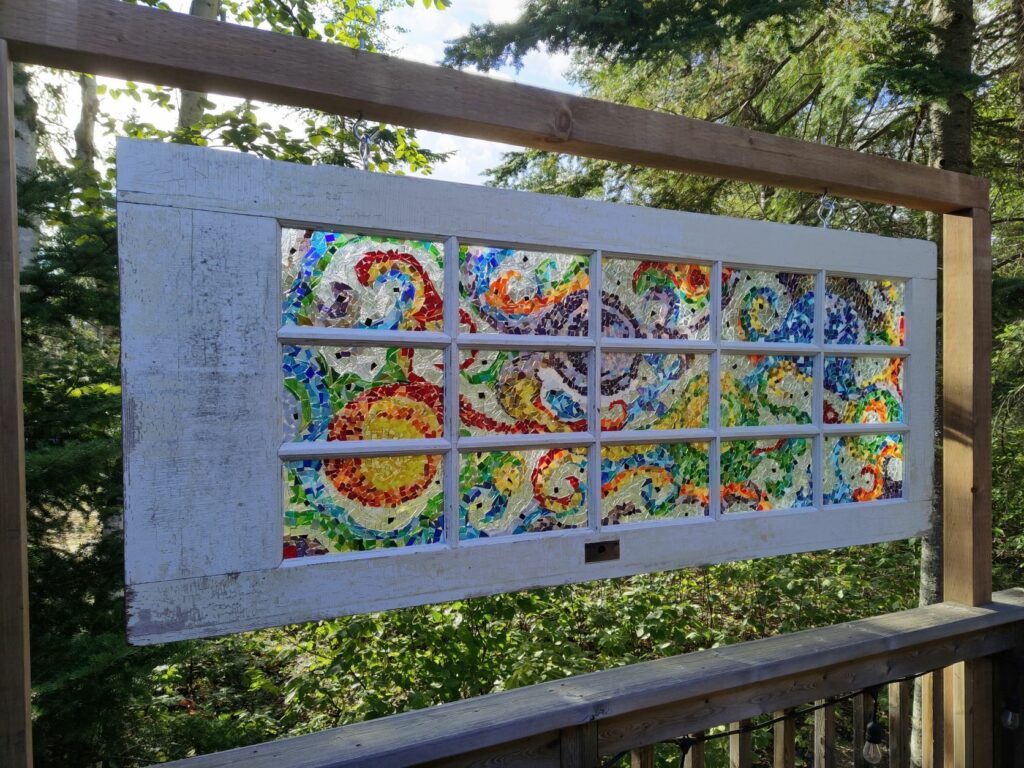 I fell in love with glass as an art form just over six years ago. It began with a few evening classes on the medium to help drive away the winter blues, but after creating my first few pieces, I was hooked! I started stained glass using patterns and then quickly created my own. I love to draw and create something different and unique each time. Some of my favorite creations include a backlit sunset beach ukulele; a cross-country skier in a snowshoe frame; and upcycled vintage candy and pickle dishes to create something truly distinctive. I soon discovered that textured glass and colors could transform my drawings and inspire me to create more freely. Saving every scrap of glass from my creations, I repurpose these for ornaments, greeting cards and mosaics on upcycled doors and windows.
A couple of years ago I began experimenting with fused glass, this opened more opportunities for creativity. With a kiln, I started creating fused glass windchimes and created picturesque beach and lake scenes inspired by Lake Winnipeg. With birchbark or pen and ink wave settings, my creations are truly one of a kind. My goal is to continue to recycle and upcycle, mix glass mediums, and create something no one has seen before!
My favorite response to my art is "you've recycled a memory into something beautiful". I admit I am no photographer and seeing it in person generally blows people away. In addition, knowing that my work is loved by others and has special meaning, makes me happy. My art brings me joy, and I hope that I can share that joy with others.